We've been doing a lot of work the last few months on Push to Kindle, our web app for sending web articles to your Kindle.
New interface
There's a new easier to use interface which also makes it simpler for us to add the features that many of our users have requested (so far we've added the ability to exclude images).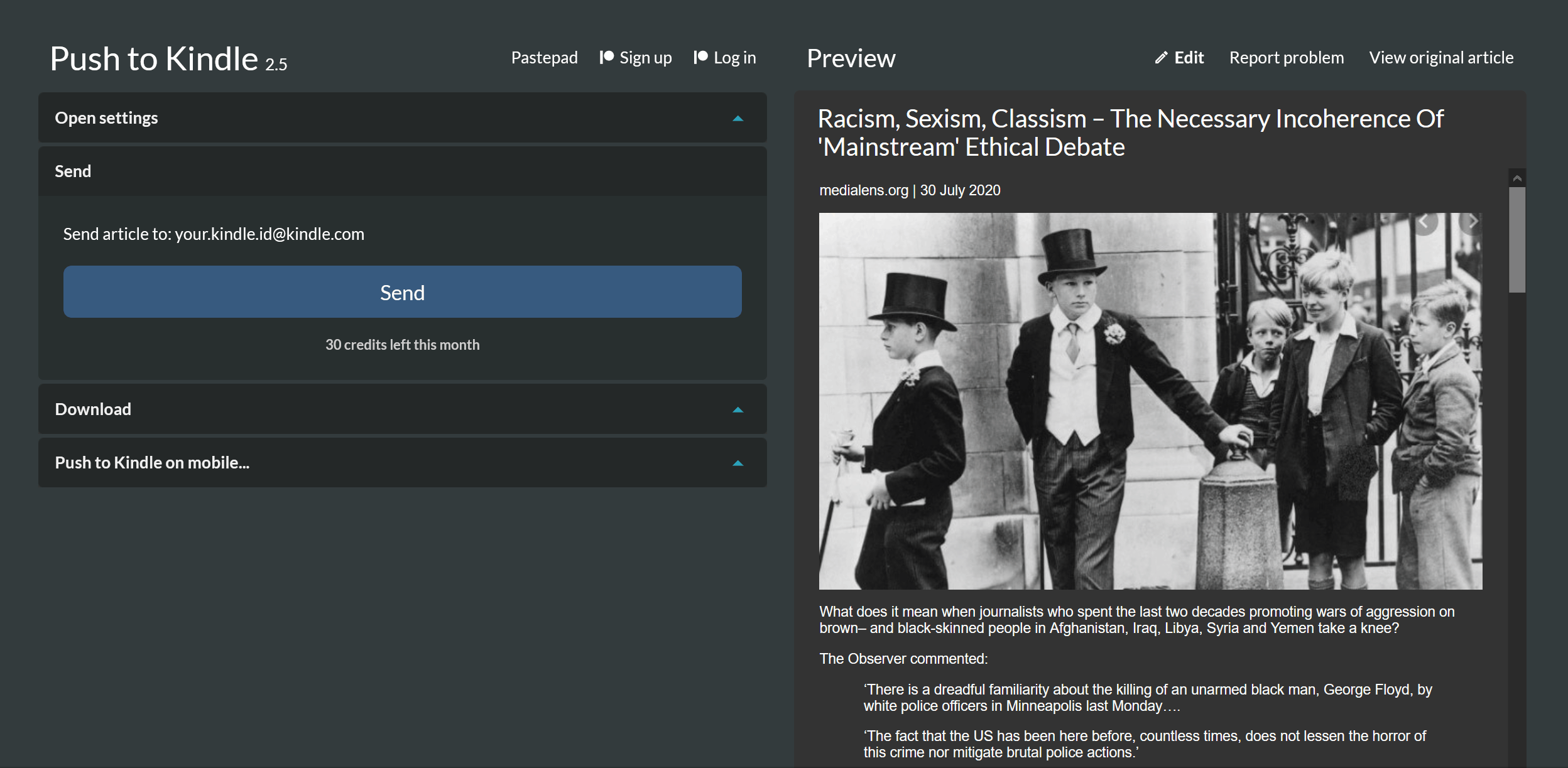 Improved article processing
In addition to the new interface, we also have a new browser extension and bookmarklet (currently only available for patrons) which submits the article content directly from your browser to Push to Kindle.
One of the big advantages of this method is that articles which require a subscription can now be processed if you subscribe to the site. The new method has other advantages too, which we wrote about in our previous Push to Kindle blog post.
The old server-retrieval method can still be used too. There's a new 'Use browser-retrieved content' switch which you can toggle to switch between the methods. You'll find it when you click 'Edit'.
Mobile friendly
One of the advantages of the new interface is that it's now also mobile friendly. While we offer dedicated mobile apps for both iOS and Android, they do not currently support the new article processing method. Users who want to take advantage of the new method on mobile can now install our bookmarklet on Safari for iOS and Chrome for Android. (This is currently only available for patrons.)
Credit system
We've been able to make all these changes thanks to the support of our patrons on Patreon. We're very grateful to everyone who supports Push to Kindle development in this way. To encourage our more active users to support development, we've added a credit system to the Push to Kindle web app.
The new version now lets you send 30 articles every month for free. We have two sustainer plans on Patreon which increase this quota, and one which removes it.
Sustainer Lite ($1/month) gives you 60 credits/month
Sustainer Standard ($2/month) gives you 100 credits/month
Sustainer Plus ($5/month) gives you unlimited sending
The vast majority of our users do not send more than 30 articles a month. If that's you, you can continue using Push to Kindle as before — although if you're able to support us, we'd really appreciate it. If you send more than 30 articles a month, we hope you'll consider signing up for the one of the plans above to support the service.
Our Push to Kindle apps purchased on Android, iOS or the Mac App store aren't currently affected by these changes. If we do make any changes to the paid-for apps/extensions, you'll get plenty of notice.
Privacy
We take the privacy of our users seriously, and with these changes we've tried to make sure that's not impacted.
We use Patreon's OAuth service if you login with Patreon. We request the minimum information we can using their API – your public profile. It does not contain your email address. We only use the data returned by Patreon to tell us which tier you're on, which determines the number of credits you get assigned when using the app.
The amount of credits you have left that we display are stored in your browser. We do not store them on the server and they do not get sent to the server.
We do not link your Patreon account to the Push to Kindle email addresses you enter. Your browser records whether you are logged in or not, not our server. And in terms of what's sent to our server when you send or download an article, it's the same as before (we do not send any Patreon information).
We've updated our privacy policy with the above and more, to give you an idea of how your data is treated.
Feedback
Please let us know if you have any questions or difficulties using the updated version and we'll do our best to help. We appreciate all feedback.