Push to Kindle patrons with access to the beta version of the extension can now enable a new setting to preserve links in the Kindle documents produced.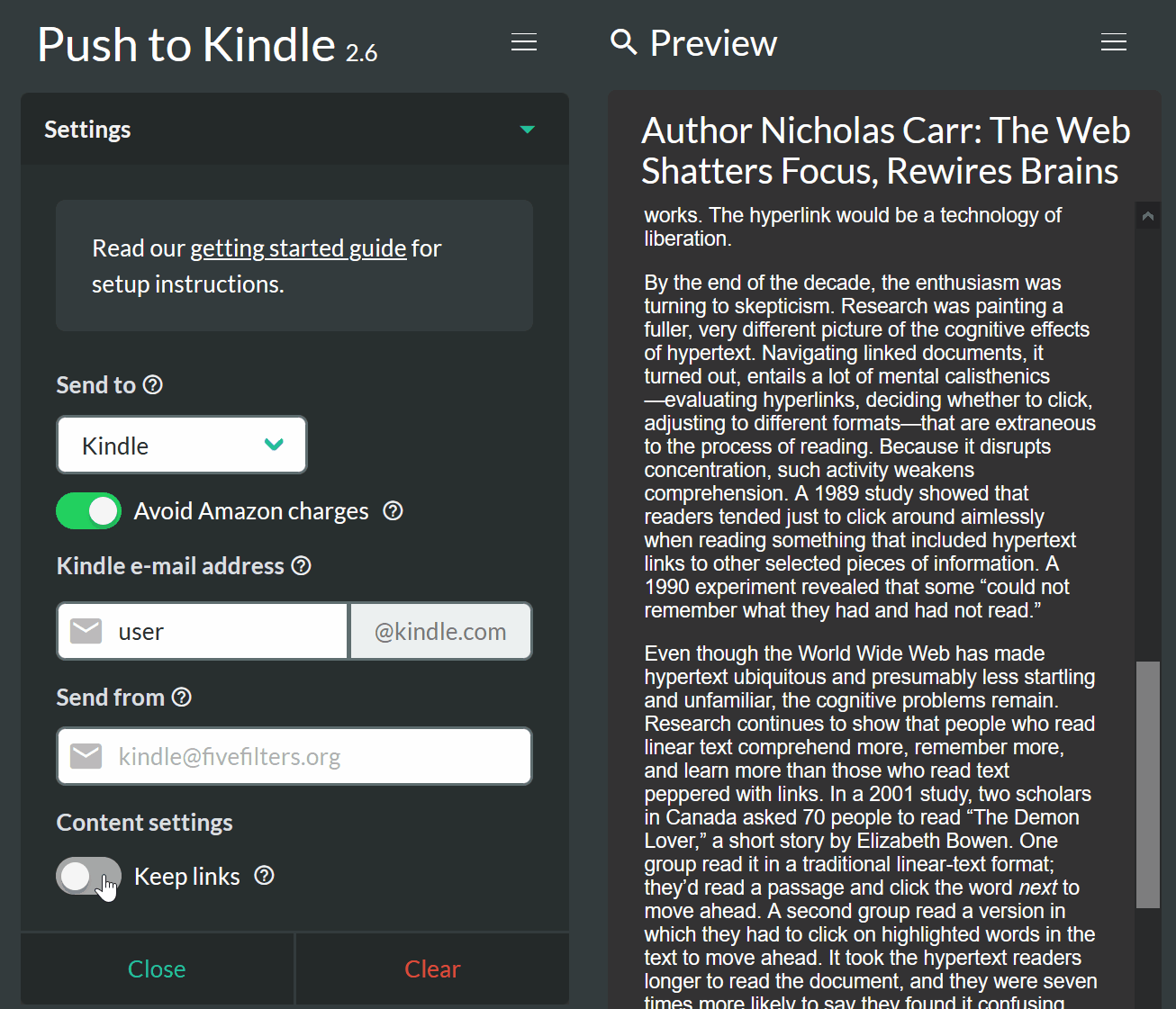 The new 'keep links' switch is in the settings panel. It's off by default, but you can enable it to have links preserved in your Kindle documents.
Push to Kindle has always removed links to improve the reading experience. But we've also received requests over the years for an option to preserve links, for articles where they're important.
After some prompting from patrons recently, we've gone ahead and implemented a new toggle in settings to allow you to have links preserved in your documents. This will soon make its way into the main extension.
More efficient image processing
We've also improved image handling so that articles with images (especially those with many images) are processed a little faster and produce smaller file sizes.
If you've encountered long delays (or even sending failures) while Push to Kindle does its processing, this change should improve things – such delays are usually always associated with image processing.
If you notice any problems, please do let us know.
Featured in the AppStories podcast
Push to Kindle was recently discussed in the AppStories podcast by MacStories Editor-in-Chief, Federico Viticci. It's an interesting podcast episode discussing read-it-later applications:
The whole thing is worth a listen, but if you'd like to hear what Federico thinks of Push to Kindle, and how he uses it, you can start listening from around the 22 minute mark.
Free monthly credits soon to be reduced from 30 to 20
Finally, to keep Push to Kindle sustainable and continue its development, we need to increase funds. Push to Kindle has tens of thousands of users (60,000 users on Chrome alone), and while our Patreon members are really helping, membership numbers are starting to plateau. We've considered taking sponsorships, but we'd prefer not to if we can avoid it.
We appreciate those of you who support us via Patreon. If you're not a patron, you'll soon notice that your free sending credits will have been lowered from 30 to 20. If you'd like to send more than this a month, or if you'd simply like to support Push to Kindle, please consider becoming a patron.